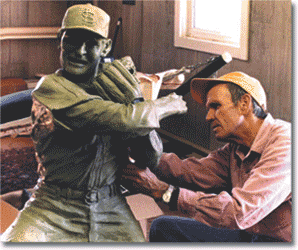 Top: Harry Sculpting

Red Schoendienst

Right: Harry Sculpting

Boy and Man Statue

of Stan Musial

Below: Foxhound at Work

MAJOR COMMISSIONS


Harry Weber's dramatic sculptures
embody action with a style developed
from a lifetime of sketching. His captivating
bronzes sculptures are fluid and natural, never
appearing static or posed. Weber's bronze sculptures
have been featured at the Museum of Fine Arts in Newport,
Rhode Island, and are in the permanent
collections of the National Dog Museum
and the Baseball Hall of Fame in Cooperstown,
New York. Weber has won major awards
at National juried competitions, and his
bronze sculptures are in private collections across
the United States and abroad. A prolific
artist, his body of work includes more than
60 large and 150 smaller pieces.
FOR MORE INFORMATION OR TO
COMMISSION A WEBER
BRONZE SCULPTURE,
CONTACT: